Tuesday 11 September 2012
Robbie Williams jokes: Cheryl Cole is a slapper for stealing my X Factor job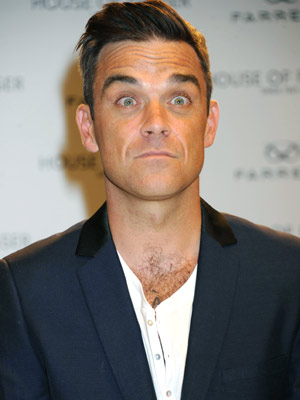 Robbie Williams is about to become a father
Robbie Williams is a little miffed that his Take That band mate Gary Barlow chose Cheryl Cole to help him pick his acts on the judges' houses stage of The X Factor.
The singer says he's 'gutted' not to have been given the chance to join the ITV show and jokes that Cheryl is a 'slapper' for stealing his guest spot - but he's still in talks to appear later in the series.
'As long as there is an X Factor, there's going to be a Robbie Williams on The X Factor,' says Robbie, 38.
'As long as people are still watching it.'
However, The X Factor is unlikely to be the most important thing on Robbie's mind at the moment - his wife Ayda Field is heavily pregnant with their first child.
The couple have already decided on a moniker for their daughter, who is due any day.
'I do have a semi sort of celebrity name but it's not Apple-esque,' Robbie tells Capital FM.
'It's a very solid old-school name. Really old school.'
SEE PICTURES Robbie Williams and Ayda Field - their love story
SEE PICTURES Robbie Williams - The highs and lows in photos
SEE PICTURES Robbie Williams and Ayda Field in Celebrity weddingdays 2010
Anna Duff