Monday 23 July 2012
The X Factor's Tulisa Contostavlos: The truth about my 'spat' with Nicole Scherzinger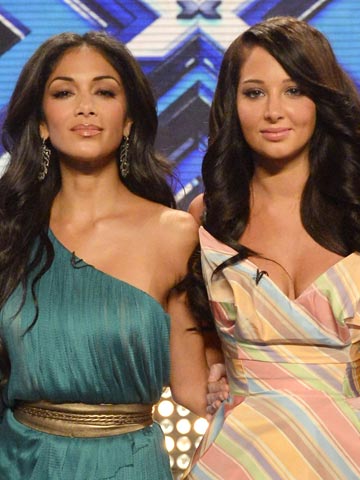 Tulisa Contostavlos and Nicole Scherzinger finished filming the boot camp stage of The X Factor auditions last week
Tulisa Contostavlos has denied that she and Nicole Scherzinger had a spat during auditions for this year's X Factor.
Gary Barlow was reported to have been forced to sit between the two singers on the judging panel because they wouldn't speak to each other - but Tulisa insists this is rubbish.
'Piss off media with all ur me n @NicoleScherzy beef talk! Ur always guna try and make a headline cus uve got nothin good 2 write about...,' Tweets Tulisa, 24.
'We get on fine!Just coz we r different doesnt mean we dont like each other!n if we didnt..believe me,Id let u know #hatebullshit.'
Tulisa, Nicole and Gary, along with 4th judge Louis Walsh, finished filming the boot camp stage of The X Factor on Friday.
Nicole, 34, told her Twitter followers that she was flying back to LA before the live shows begin later this year - but not before cuddling up to Tulisa for a photo.
'And boot camp comes to an end. What a great week! @NicoleScherzy,' Tweeted Tulisa.
SEE PICTURES Tulisa Contostavlos joins Rita Ora and Conor Maynard at T4 On The Beach>>
SEE PICTURES Tulisa Contostavlos joins The X Factor judges for Manchester auditions>>
SEE PICTURES Tulisa Contostavlos Style File>>
Anna Duff