Friday 13 July 2012
Steven Tyler quits American Idol as fellow judge Jennifer Lopez admits: Maybe it's time for me to go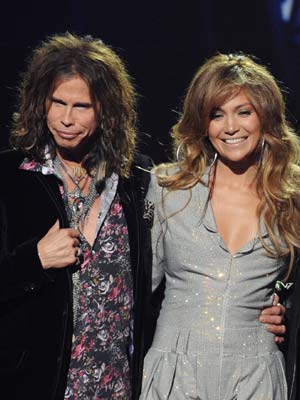 Steven Tyler and Jennifer Lopez have been judges on American Idol for two series
Steven Tyler has announced that he's leaving American Idol - and Jennifer Lopez may be following his lead.
The Aerosmith frontman is quitting after just two series as a judge to concentrate on making more music with his band.
'After some long hard thoughts, I've decided it's time for me to let go of my mistress American Idol before she boils my rabbit,' Steven, 64, says in a statement.
'I strayed from my first love Aerosmith and I'm back - but instead of begging on my hands and knees, I've got two fists in the air and I'm kicking the door open with my band.
'The next few years are going to be dedicated to kicking some serious ass - Idol was over-the-top fun and I loved every minute of it... Now it's time to bring rock back.'
Meanwhile, Jennifer, 42, is also considering leaving the judging panel to focus on her acting and music career.
'I love everybody [fellow judge Randy Jackson and host Ryan Seacrest] and I love the family that's there... but I am thinking that maybe it's time for me to go and do other things I really love to do,' J-Lo tells America's Today show.
'It's a tough decision either way, but I have to say there are so many things I do that I put on hold for that. It's a heartbreaking decision if I'm gonna have to go.'
If Jennifer does quit, bosses are already in talks with stars such as Katy Perry, Miley Cyrus and American Idol alumni Adam Lambert to join the show as judges.
SEE PICTURES Jennifer Lopez attends The Back Up Plan premiere in LA>>
MORE PICTURES Jennifer Lopez's style statement>>
MORE PICTURES Jennifer Lopez makes her American Idol debut>>