Wednesday 27 June 2012
SHOCK! EastEnders' Ian Beale returns to EastEnders as a homeless tramp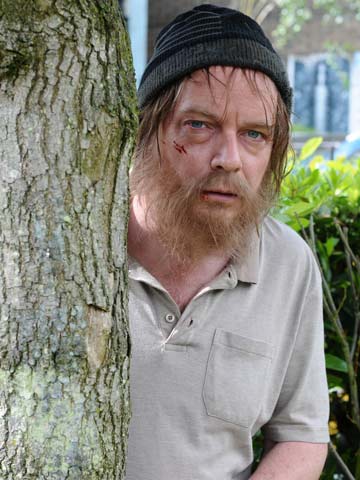 Adam Woodyatt has been in EastEnders since 1985
EastEnders star Adam Woodyatt has been given a rather shocking makeover for his return to the soap.
The 43-year-old actor - who took a 6-week break from the show - was spotted sporting an umkempt beard and cuts on his face as he filmed scenes this week.
To explain his character Ian Beale's absence, writers came up with a storyline in which he suffers a mental breakdown and ends up living rough on a motorway underpass.
Viewers had previously seen him walk down the motorway in his pyjamas.
'We set up a meeting between the scriptwriters and someone who has suffered from depression so they could reflect accurately what Ian has been going through,' Jenni Regan, spokeswoman for charity Time To Change, tells the Daily Mirror.
'Mental health problems can happen to anyone and we hope EastEnders will help eliminate the stigma and taboo that still surrounds the issue.'
In the scenes, which are due to be aired later this summer, Ian's Albert Square neighbours Alfie Moon and Max and Tanya Branning - played by Shane Richie, Jake Wood and Jo Joyner - take to the streets to search for him.
Adam hadn't taken a break from EastEnders since he joined the programme for its first episode in 1985.
SEE PICTURES Celebrities arrive at British Soap Awards 2012>>
SEE PICTURES British Soap Awards 2012: Celebrity hair>>
SEE PICTURES British Soap Awards 2012: Celebrity fashion disasters>>
Anna Duff