Tuesday 26 June 2012
Hugo Taylor tells Dan Wootton: Why I'm quitting Made In Chelsea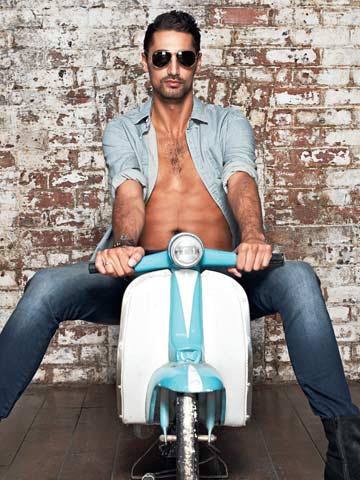 Hugo Taylor has had enough of reality TV
For a laugh,
Dan Wootton
asks
Hugo Taylor
to meet him in
Stoke Newington
, east
London

- about as far from the posh streets of
Chelsea
as you can 
get.
The 26-year-old, whose complicated personal life has kept us gripped on Made In Chelsea, certainly looks out of his comfort zone, especially when he's asked to bare a little flesh during our photo shoot.
In fact, Hugo's surprisingly shy.
That's despite a dramatic three series on the E4 show when his hook-up with Rosie Fortescue behind the back of then girlfriend 
Millie Mackintosh (now dating Professor Green) shocked us 
all.
Now loved-up with model Natalie Joel, 24, Hugo tells Dan why he's quitting Made In Chelsea.
'It's a big gamble but I think I might've outgrown the show,' he explains.
'I could wind up having absolutely everything or I could end up with nothing.
'But I've become lazy and comfortable on the show.

'I often look at what I've done and think: "Shit, did I completely sell out?" Staying on Made In Chelsea and bitching about the colour of someone's dress has started to become unimportant to me.'
Hugo is off to train as an actor in Hollywood.
'I plan to study at the Lee Strasberg Theatre And Film Institute, which teaches method acting,' he reveals.
'It's expensive and you have to have some talent.
'I don't think they've accepted anyone from 
reality TV before.
'I was going to leave for 
LA in September but I'm opening a private members club in Chelsea first, so January's more realistic.'
Read Dan Wootton's full interview with Hugo Taylor in Now magazine dated 2 July 2012 - out now!
SEE VIDEO Made In Chelsea's Millie Mackintosh and Caggie Dunlop give make-up masterclass>>
SEE PICTURES Made In Chelsea girls show TOWIE cast how to dress at London party>>
SEE PICTURES Made In Chelsea's Millie Mackintosh attends InStyle's 10th anniversary party in London>>