Wednesday 13 June 2012
BGT favourites Loveable Rogues sign £500,000 deal with Simon Cowell's label Syco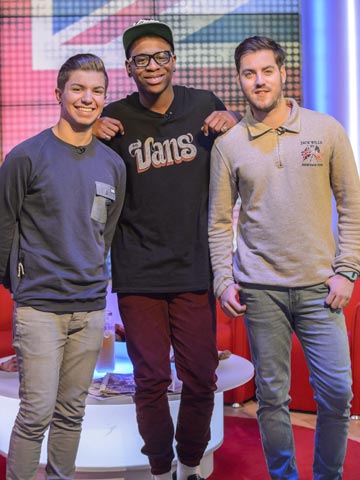 Loveable Rogues lost out to Pudsey the dancing dog in the BGT final
Britain's Got Talent finalists Loveable Rogues have landed a one-album deal reportedly worth half a million pounds with Simon Cowell's record label Syco.
The threesome - Eddie Brett, Sonny Jay and Té Eugene - are expected to release their debut single later this year.
'Syco is a fresh label working with some great acts,' says Sonny.
The group, who have more than 6m hits on YouTube, join One Direction and Leona Lewis at the label.
'We're buzzing. This is everything we've been working towards,' Eddie tells The Sun.
'We are so happy.'
WATCH Loveable Rogues perform their song Honest in the BGT final below...
NEW PICTURES Britain's Got Talent 2012: The finalists>>
SEE PICTURES Carmen Electra stands in for new mum Amanda Holden at Britain's Got Talent London auditions>>
SEE PICTURES Britain's Got Talent judges meet for Manchester auditions>>
SEE PICTURES Britain's Got Talent 2011: The finalists>>
SEE PICTURES Britain's Got Talent 2011: The second auditions show>>>
SEE PICTURES Britain's Got Talent 2011: The first auditions show>>>
SEE
PICTURES Britain's Got Talent - best moments>>
SEE PICTURES Stars arrive at Simon Cowell's 50th birthday party>>
SEE PICTURES The photos of Paul Abdul and Cheryl Cole Simon Cowell didn't want you to see>>
SEE PICTURES Simon Cowell in Celebrity Smokers: VIPs who love a fag>>
Esme Riley