Friday 01 June 2012
Simon Cowell signs Britain's Got Talent best friends and opera stars Jonathan And Charlotte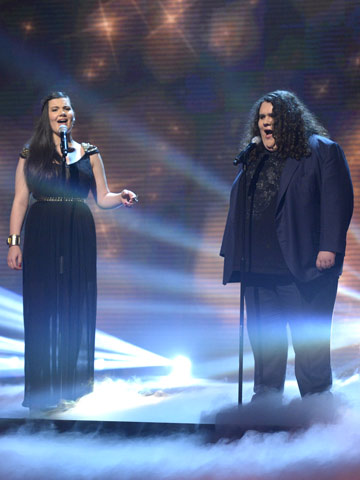 Jonathan And Charlotte came 2nd in Britain's Got Talent 2012
Opera singers Jonathan Antoine and Charlotte Jaconelli are reported to have signed a £1m recording contract with Simon Cowell's label Syco.
The pair, who narrowly lost out in the Britain's Got Talent final to Ashleigh Butler and her dancing dog Pudsey, are expected to release their first album on 3 September.
'Appearing on the show has been a huge confidence boost and I'm still pinching myself that we are actually making our album,' says Jonathan, 17.
'Thank you to everyone for making this happen for us.'
And it seems BGT boss Simon is just as excited about Jonathan And Charlotte's first record.
'This show is designed to give people like Jonathan and Charlotte an opportunity,' says Simon, 52.
'I think their debut album is going to be stunning.'
WATCH VIDEO Jonathan And Charlotte wow in Britain's Got Talent final...
SEE PICTURES Britain's Got Talent 2012: The finalists>>
SEE PICTURES Carmen Electra stands in for new mum Amanda Holden at Britain's Got Talent London auditions>>
SEE PICTURES Britain's Got Talent judges meet for Manchester auditions>>
SEE PICTURES Britain's Got Talent 2011: The finalists>>
SEE PICTURES Britain's Got Talent 2011: The second auditions show>>>
SEE PICTURES Britain's Got Talent 2011: The first auditions show>>>
SEE
PICTURES Britain's Got Talent - best moments>>
SEE PICTURES Stars arrive at Simon Cowell's 50th birthday party>>
SEE PICTURES The photos of Paul Abdul and Cheryl Cole Simon Cowell didn't want you to see>>
SEE PICTURES Simon Cowell in Celebrity Smokers: VIPs who love a fag>>
Esme Riley