Thursday 31 May 2012
The Apprentice: Adam Corbally fired by Alan Sugar after luxury chocolate fail in semi-final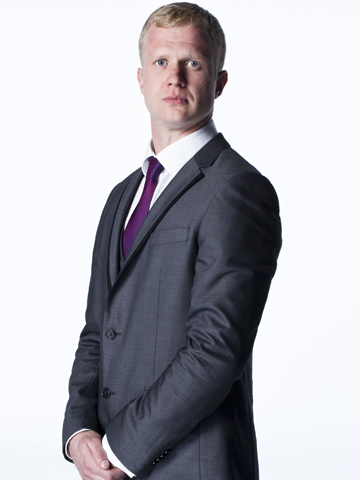 Adam Corbally started his fruit and veg stall on Glossop Market at the age of 19
Adam Corbally is the 12th candidate to be sent packing by Lord Alan Sugar on The Apprentice 2012.
The 32-year-old market trader, who led Team Phoenix in a task that asked them to create a new affordable luxury product range, was criticised for not devising an effective strategy.
'I'm sad to be going home but I respect Lord Sugar,' says Adam.
'I've always been a doer not a talker, I never give up.
'Maybe me and Lord Sugar will meet again one day, you never know.'
Phoenix decided to develop a range of high-end chocolates called Sweet Thing, which they then had to pitch to industry experts.
Meanwhile, 26-year-old Ricky Martin's Team Sterling opted for a male grooming range named Modern Gentleman, the branding for which was deemed boring by Lord Sugar.
Nonetheless, the business boss decided Sterling's business plan was more professional and Phoenix's sales pitch - led by Adam - was weak.
'Adam - I've got to tell you, you have impressed me in the manner in which you have thrown yourself into everything head first,' said Alan, 64.
'That aggression, that ambition and that enthusiasm, that in itself is fantastic really, and you're a good salesman also.
'If you win the task you don't get fired, simple as that.
'So I think all in all, on this very difficult decision I've got to make, I'm going to have to say that - Adam, I think it's time for you to leave the process, you're fired.'
Nick Holzherr, 25, Jade Nash, 29, Ricky Martin and 23-year-old Tom Gearing have all made it through to next week's final.
NEW PICTURES The Apprentice 2012: Meet the candidates - the have-a-go hero, the body-builder and the Blonde Assassin>>
SEE PICTURES The Apprentice 2011 - contestants revealed>>
SEE PICTURES The Apprentice 2010 - contestants revealed>>
SEE PICTURES The Apprentice: Where are they now?>>
Esme Riley