Thursday 24 May 2012
The Apprentice: Gabrielle Omar and Stephen Brady fired by Alan Sugar in surprise double eviction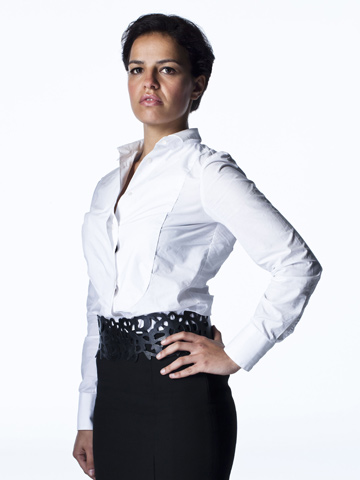 Gabrielle Omar first worked in her dad's fish and chip shop
Gabrielle Omar and Stephen Brady are the 10th and 11th candidates to be sent packing by Lord Alan Sugar on The Apprentice 2012.
In last night's show, the pair were criticised for 'running around like a couple of headless chickens' in a task that asked them to work as agents for a luxury daily deals website.
'Plans
for me now are really just to get to grips with the businesses I
already have and to make them a success and show everyone that behind
this smile there is a brain,' says architect Gabrielle, 29.
'I'm going to go far in life.'
Meanwhile sales manager Stephen, 33, has regrets: 'I only wish I
could turn back time and if I could I would have stuck to my gut
feeling.'
The contestants visited a number of high-end businesses to try and secure discounts on luxury experiences to go online.
Team Phoenix - led to victory by Jade Nash, 29 - focused on quality over quantity and had 2 of their deals accepted by the website. They secured impressive total sales of £14,563.
Stephen's Team Stirling had 3 offers go live, but only managed to bring in £6,440 - most of which was secured by Ricky Martin, 26.
Alan questioned Stephen and Gabrielle's understanding that the deals had to offer high quality, unique experiences.
'Gabrielle, I don't think you contributed much in this task at all, to be honest with you,' said Alan, 64, in the boardroom.
'I'd just like to reiterate that it's the person who I feel is most responsible for the lack of contribution in the task that leaves, and on that basis I've got to say that Gabrielle, as nice a person that you are, it is with regret that - you're fired.'

'There's no smoke without fire. Stephen - you asked me for the chance to be the project manager, I gave you the chance.
'You told me you were going to win, you didn't win, you lost.
'On that basis I've made a decision, and that is that - you're also fired.'
NEW PICTURES The Apprentice 2012: Meet the candidates - the have-a-go hero, the body-builder and the Blonde Assassin>>
SEE PICTURES The Apprentice 2011 - contestants revealed>>
SEE PICTURES The Apprentice 2010 - contestants revealed>>
SEE PICTURES The Apprentice: Where are they now?>>
Esme Riley