Thursday 17 May 2012
Has Pudsey the dog got pudgy? Ashleigh Butler worried about pet's weight gain as he hangs out with the stars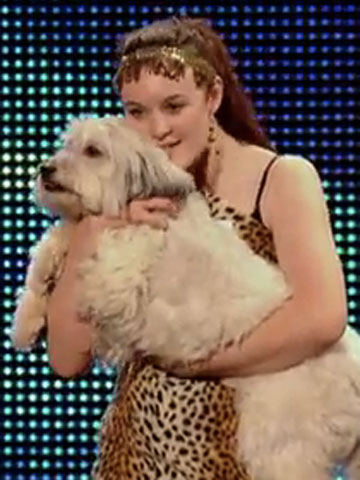 Ashleigh And Pudsey won Britain's Got Talent on Saturday night
Britain's Got Talent winner Ashleigh Butler is reportedly putting her dog Pudsey on a strict diet and work-out regime because he's gained weight.
It seems Pudsey - whose amazing dance skills nabbed him and handler Ashleigh the £500,000 prize and the chance to perform at the Royal Variety show - has been overindulging.
'Recently he has been given lots of treats to help him with live shows and practice and also during photo shoots - and fans are keen to give him food too,' a source tells the Daily Mirror.
'He has put on up to 6lb and has the beginnings of a tummy.'
Ashleigh, 17, is said to have splashed out £500 on a special doggy treadmill for Pudsey and banned him from his favourite ham and cheese treats.
Since winning the talent show, Pudsey has met a string of stars including Gary Barlow, Kanye West and Kim Kardashian.
'I'm keeping up with a Kardashian @KimKardashian #letsconga,' Pudsey Tweeted to his 28,162 followers aong with a photo of himself and Ashleigh with the reality TV star.
WATCH Ashleigh And Pudsey's final performance...
NEW PICTURES Ashleigh Butler and Pudsey the dog's rise to fame>>
PHOTO GALLERY Britain's Got Talent finalists 2012>>
SEE PICTURES Carmen Electra stands in for new mum Amanda Holden at Britain's Got Talent London auditions>>
SEE PICTURES Britain's Got Talent judges meet for Manchester auditions>>
SEE PICTURES Britain's Got Talent 2011: The finalists>>
SEE PICTURES Simon Cowell in Celebrity Smokers: VIPs who love a fag>>
Esme Riley