Sunday 20 May 2012
Louis Walsh rescues Made In Chelsea star knocked unconscious after night out at London club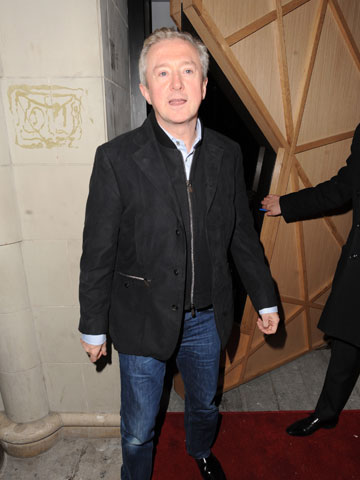 Louis Walsh has been confirmed as a judge on The X Factor 2012
Louis Walsh came to the rescue of a new Made In Chelsea cast member and his female friend when they were allegedly attacked on their way home from Mayfair celeb haunt Dover Street Arts Club last week.
Diego Bivero-Volpe, who's the ex-boyfriend of MIC's Kimberley Garner and is set to make his debut on the show later this month, was walking away from the club when a car pulled up and 3 men and a driver began shouting abusive language at him.
'They were spitting from the window so I told them to stop being so rude,' says Diego, 28.
'Then three of the men stood in front of me and one was behind me. The two men at the front both punched me and I dodged one punch, but the other punch connected with my jaw.
'I was woozy from that when I felt what I assume was another fist at the back of my head which knocked me out completely.'
Louis, 59, witnessed the alleged assault as he made his own way home from the venue, later telling Diego that it was 'the worst he'd ever seen' and that he'd noted down the car's details.
But it was only later that Diego, who doesn't watch The X Factor, found out who his saviour was.
'When I came round I was lying on the floor and Louis Walsh had come out of the club. He asked me if I needed to go to the hospital,' Diego tells the Mail On Sunday.
'Louis said he would get us a taxi. [He] got out first and gave the driver a £20 note, even though the whole journey only cost £15, which was very generous.
'My friends told me later who he was and I just want to say thank you to Louis for being so kind.'
SEE PICTURES Made In Chelsea cast attend The Dictator London movie premiere>>
SEE VIDEO Millie Mackintosh and Caggie Dunlop's make-up masterclass>>
SEE PICTURES Made In Chelsea girls show TOWIE cast how to dress at London party>>
SEE PICTURES Millie Mackintosh attends InStyle's 10th anniversary party in London>>
EXCLUSIVE VIDEO Behind the scenes at Caggie Dunlop and Millie Mackintosh's photo shoot>>
Anna Duff