Monday 14 May 2012
REVEALED Kate Middleton's favourite act on Britain's Got Talent (and it's not Pudsey)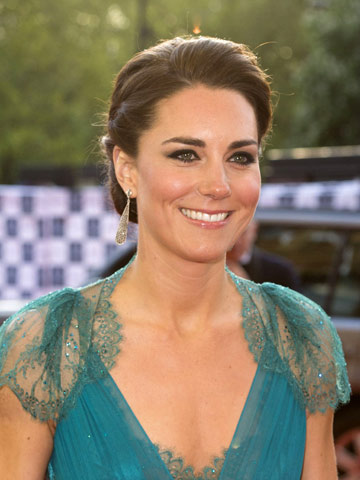 Kate Middleton celebrated her one-year wedding anniversary with Prince William on 29 April
Kate Middleton was backing Only Boys Aloud to win this weekend's Britain's Got Talent.
The Duchess of Cambridge messaged the 130-strong Welsh male choir ahead of the final and may well have voted for them.
'Kate sent a note wishing them luck and that she was supporting them,' a source tells The Sun.
Unfortunately for Kate, 30, it was Pudsey And Ashleigh who took the top spot, grabbing the £500,000 prize and the chance to perform at the Royal Variety show.
Show judge Amanda Holden recently admitted she wanted the act that won BGT to be enjoyed not just by the Queen but all her loved ones, too.
'I want to find something hot that appeals to the whole family,' says Amanda, 41.
'I want Kate and William to love something as much as the Queen does.
'I want them to be impressed and go: "Wow, that is absolutely amazing. You could only have found that on Britain's Got Talent".'
WATCH Only Boys Aloud perform Calon Lan in the Britain's Got Talent final...
PHOTO GALLERY Britain's Got Talent finalists 2012>>
SEE PICTURES Carmen Electra stands in for new mum Amanda Holden at Britain's Got Talent London auditions>>
SEE PICTURES Britain's Got Talent judges meet for Manchester auditions>>
SEE PICTURES Britain's Got Talent 2011: The finalists>>
SEE PICTURES Kate Middleton wears Orla Kiely dress for Royal engagement in London with Prince Charles>>
SEE PICTURES Kate Middleton keeps dress hidden under chic grey coat at first Royal engagement without Prince William>>
SEE PICTURES Kate Middleton Style File>>
NEW PICTURES Kate Middleton and Prince William visit riot victims in Birmingham>>
NEW PICTURES Kate Middleton and Prince William dazzle in LA>>
NEW PICTURES Prince William and Kate Middleton on their visit to Prince Edward Island in Canada>>
NEW PICTURES Kate Middleton dazzles at ARK event>>
Esme Riley