Tuesday 15 May 2012
BGT winner Ashleigh Butler: I'm so scared dogknappers will target Pudsey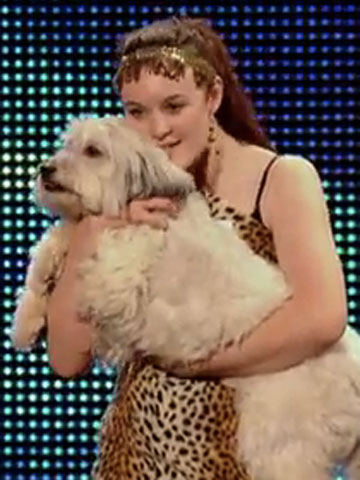 Ashleigh And Pudsey won Britain's Got Talent on Saturday night
Britain's Got Talent winner Ashleigh Butler is concerned that kidnappers could target pet pooch Pudsey.
Ashleigh, 17, thinks the cross-breed mutt could be in danger after their triumph on Simon Cowell's ITV show at the weekend.
'I am a bit worried about dogknappers,' Ashleigh tells the Daily Star Sunday.
'You do start to worry that someone may want to take him now he's famous, especially because he is so talented.'
The public have gone crazy for Pudsey since he showed off his amazing dancing skills and people have been hanging around outside his home, hoping to see him.
'I went to take him to the toilet yesterday and it went a bit mad, so we had to have security,' Ashleigh tells Metro.
'There were people coming in the gates and asking for pictures. It was quite scary.
'At the end of the day, he is a dog and I think people kind of forget about that.'
WATCH Ashleigh And Pudsey's final performance...
NEW PICTURES Ashleigh Butler and Pudsey the dog's rise to fame>>
PHOTO GALLERY Britain's Got Talent finalists 2012>>
SEE PICTURES Carmen Electra stands in for new mum Amanda Holden at Britain's Got Talent London auditions>>
SEE PICTURES Britain's Got Talent judges meet for Manchester auditions>>
SEE PICTURES Britain's Got Talent 2011: The finalists>>
SEE PICTURES Simon Cowell in Celebrity Smokers: VIPs who love a fag>>
Anna Duff