Monday 14 May 2012
Britain's Got Talent winner Pudsey the dog is a 'complete flirt' and has secret boyfriend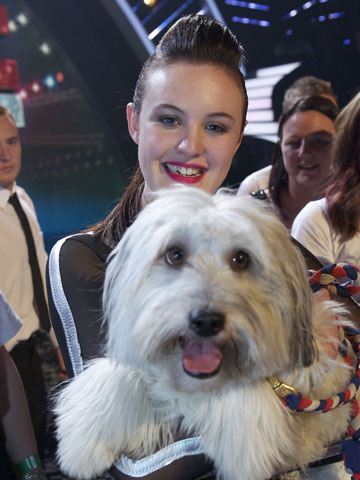 Ashleigh And Pudsey won £500,000 this weekend
Britain's Got Talent winner Ashleigh Butler has revealed that her male dog Pudsey - who has already fathered his own pups - gets infatuated with boy dogs as well as bitches.
The 17-year-old, who performed a Mission Impossible routine with her cute pet to win Simon Cowell's ITV show this weekend, says Pudsey has a crush on a good-looking pal.
'One of my friends has a cocker spaniel called Sam,' says Ashleigh.
'Whenever Pudsey sees Sam, he is in love. He has a thing for him.
'Don't ask me why. Maybe it's the ears!
'Pudsey is a complete flirt.'
But Sam is apparently facing competition from judge David Walliams' border terrier puppy, Bert.
'What a final,' Tweeted David, 40, along with a snap of the two dogs together.
WATCH Ashleigh And Pudsey's final performance...
PHOTO GALLERY Britain's Got Talent finalists 2012>>
SEE PICTURES Carmen Electra stands in for new mum Amanda Holden at Britain's Got Talent London auditions>>
SEE PICTURES Britain's Got Talent judges meet for Manchester auditions>>
SEE PICTURES Britain's Got Talent 2011: The finalists>>
SEE PICTURES Simon Cowell in Celebrity Smokers: VIPs who love a fag>>