Monday 14 May 2012
The dog is the winner! Ashleigh And Pudsey beat Jonathan And Charlotte in Britain's Got Talent final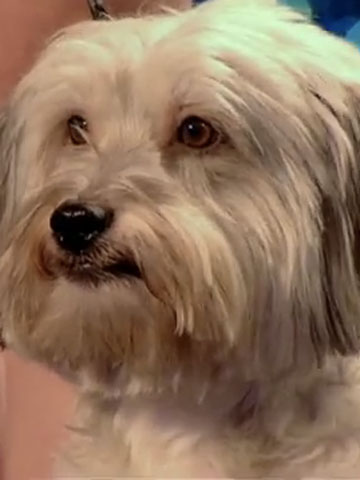 Simon Cowell is a big fan of Pudsey the dog
Simon Cowell's favourite dancing dog Pudsey triumphed in the Britain's Got Talent final on Saturday night.
Owner Asheigh Butler's Mission Impossible routine with her cute pet - a mix of Border Collie, Bichon Frise
and Chinese Crested - enchanted the audience once again and impressed viewers at home.
'I just want to say a massive thanks to everyone who voted for me and I'm just so proud of Pudsey,' Asheigh, 17, told Ant and Dec after finding out she and Pudsey had won.
Runners-up Jonathan And Charlotte were chuffed about coming second.
Amanda Holden reminded Simon he'd promised to dance with Pudsey if he became the first ever animal act to win BGT, but the media mogul decided not to join Ashleigh and her talented pooch on stage for their final performance.
<
PHOTO GALLERY Britain's Got Talent finalists 2012>>
SEE PICTURES Carmen Electra stands in for new mum Amanda Holden at Britain's Got Talent London auditions>>
SEE PICTURES Britain's Got Talent judges meet for Manchester auditions>>
SEE PICTURES Britain's Got Talent 2011: The finalists>>
SEE PICTURES Simon Cowell in Celebrity Smokers: VIPs who love a fag>>