Sunday 13 May 2012
Britain's Got Talent winner Ashleigh Butler: Pudsey will be so jealous if I get a boyfriend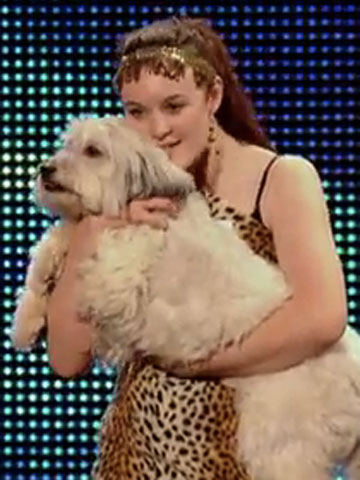 Pudsey and Ashleigh Butler are firm friends
Dancing dog Pudsey scooped £500,000 by winning the Britain's Got Talent final last night.
The cross-breed pooch - a mix of Border Collie, Bichon Frise
and Chinese Crested - thrilled the audience and viewers with a brand new Mission Impossible routine, which owner Ashleigh Butler has perfected with many hours of training.
Ashleigh and Pudsey are inseparable and the 17-year-old schoolgirl is never parted from Pudsey - except when she's at school.
'We've been together since he was born; my mum gave him to me as my 11th birthday present and everything we do, we do together,' Ashleigh tells Weekend.
'He can get a bit jealous; when my sister got a new dog Pudsey would get the hump if I went near him so I'm not sure what he'd be like if I had a boyfriend.'
NEW PICTURES Britain's Got Talent 2012: The finalists>>
SEE PICTURES Carmen Electra stands in for new mum Amanda Holden at Britain's Got Talent London auditions>>
SEE PICTURES Britain's Got Talent judges meet for Manchester auditions>>
SEE PICTURES Britain's Got Talent 2011: The finalists>>
SEE PICTURES Britain's Got Talent 2011: The second auditions show>>>
SEE PICTURES Britain's Got Talent 2011: The first auditions show>>>