Saturday 12 May 2012
Britain's Got Talent judge Alesha Dixon: I'm proud to have small boobies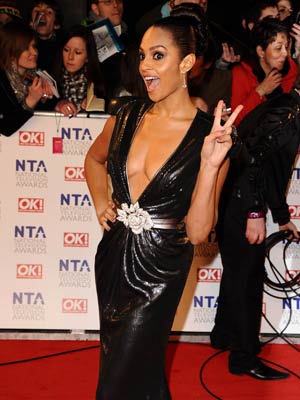 Alesha Dixon quit Strictly Come Dancing to join Britain's Got Talent
Alesha Dixon has revealed that her favourite part of her body is her chest.
The Britain's Got Talent judge, who joined the panel this year, reckons she's a little under-endowed in that department - but she doesn't care.
'I'm proud to have small boobies!' says Alesha, 33.
'Thanks to them being the size they are, I can get away with wearing a lot more clothes, like a Markus Lupfer dress I wore with a plunging neckline.
'If I had big breasts, that would have looked ridiculous.'
Alesha has grown happier with her body as she's grown older.
'The breakthrough is when you realise you'll never be perfect - but that's OK,' Alesha tells Look magazine.
'It's OK to have flaws, because we all have them.'
NEW PICTURES Britain's Got Talent 2012: The finalists>>
SEE PICTURES Carmen Electra stands in for new mum Amanda Holden at Britain's Got Talent London auditions>>
SEE PICTURES Britain's Got Talent judges meet for Manchester auditions>>
SEE PICTURES Britain's Got Talent 2011: The finalists>>
SEE PICTURES Britain's Got Talent 2011: The second auditions show>>>
SEE PICTURES Britain's Got Talent 2011: The first auditions show>>>
SEE
PICTURES Britain's Got Talent - best moments>>
Esme Riley