Friday 11 May 2012
Fired Apprentice star Laura Hogg: I was told during filming the father of my son had been killed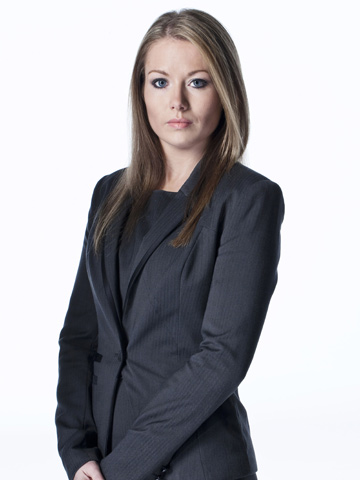 Laura Hogg was sent home from The Apprentice this week
Laura Hogg has shockingly revealed that she found out while she was filming for The Apprentice that her 4-year-old son Reece's dad had been killed.
The bridal shop owner was taken aside by producers and told that her former partner Chris Lindsay, 34, who she was with for 2 years before they split, died after he was badly beaten up during a break in the Costa Del Sol.
'I just wanted someone to pinch me,' says Laura, 28.
'I couldn't speak. It was like something from a film.
'When you hear that someone you cared for deeply - and who did something as amazing as giving you a child - has gone through that ordeal it hurts like mad.
'It was really disturbing.'
Laura was recording the chutney task before the hopefuls' house nanny Claire broke the devastating news back in October.
She decided not to go home and instead returned to the accommodation she shared with the other contestants, initially keeping it a secret before she told roommate Jade Nash, 29.
She threw herself into filming the next day, even though her mental state was 'all over the place' and she felt 'sick'.
'I got through the afternoon but as soon as the cameras stopped at 5pm I burst into tears,' says Laura.
'I started to get paranoid and thought I wasn't performing as well as everyone else.
'I wondered, "Is everyone looking at me, thinking she's on the edge? Will people notice on screen that something was up?"
'I don't even know if Lord Sugar knows.'
Laura has been with current boyfriend Ali for 4 years.
NEW PICTURES The Apprentice 2012: Meet the candidates - the have-a-go hero, the body-builder and the Blonde Assassin>>
SEE PICTURES The Apprentice 2011 - contestants revealed >>
SEE PICTURES The Apprentice 2010 - contestants revealed>>
SEE PICTURES The Apprentice: Where are they now?>>
Esme Riley