Friday 11 May 2012
Phillip Schofield posts photo of Holly Willoughby 'passed out' after they share of bottle of tequila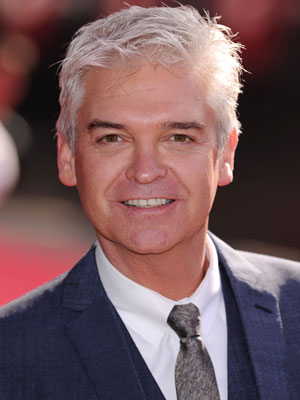 Phillip Schofield also hosts Dancing On Ice
This Morning presenters Holly Willoughby and Phillip Schofield polished off an entire bottle of tequila on Wednesday night.
The pair were filming their appearance on Alan Carr: Chatty Man and started off the evening looking rather civilised in a snap with the comedian - but things soon went downhill.
'This was the end,' Tweeted Phillip, 50, along with a photo of Holly apparently passed out on the table next to the empty bottle of alcohol.
Holly reveals on the show that she'd drunk Agave tequila before and had escaped a hangover - so the pair decided to see if the same would happen again.
Phillip happily admitted he was 'pissed' after they finished the bottle - but he was feeling 'bright as a button' the following day.
'Remarkable! @hollywills was right, I can confirm that the #tequilaexperiment was a success!!' Tweeted Phillip.
Holly, 31, writes this morning: 'For the record... That tequila pic was a joke?... But I did eat a few of the crisps! X.'
SEE PICTURES Holly Willoughby - Style File>>
SEE PICTURES Holly Willoughby launches maternity collection>>
SEE PICTURES Holly Willoughby tests out pancake recipes>>
NEW PICTURES The Voice final 20 revealed>>
SEE PICTURES Holly Willoughby and the stars of The Voice kick off the talent programme>>
Esme Riley