Thursday 10 May 2012
BGT SHOCK! Loveable Rogues: We were approached by the show and asked to audition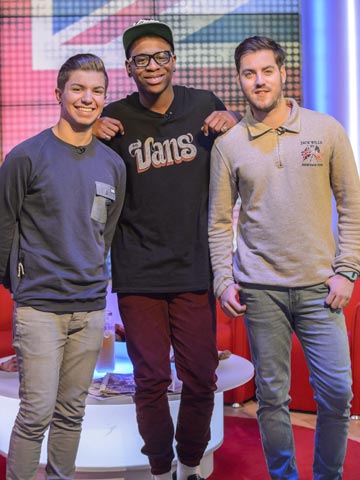 Loveable Rogues will be performing on this weekend's final
Britain's Got Talent finalists Loveable Rogues have revealed that they were asked to appear on the programme by producers.
The threesome - Eddie Brett, Sonny Jay and Té Eugene - are now facing claims of a fix because they didn't have to go through the full audition process.
'We did get approached by the show,' says Eddie.
'We never really thought about doing shows like this, but obviously an opportunity came along and it would be silly not to.'
The group skipped the production auditions - where hopefuls are
whittled down before appearing in front of the panel - and managed to
avoid queueing for hours.
They only agreed to take part after bosses agreed to let them sing their own songs.
'The audition in front of the judges was the first we'd done,' says Sonny.
But BGT insists Loveable Rogues' route onto the show was 'normal'.
'We let people know about auditions in lots of ways, from ads in local papers to flyers distributed at festivals,' a spokesman for Simon Cowell's show tells the Daily Mirror.
'As part of this normal process, we may inform some acts about the auditions.
'All acts are auditioned on their own merits and the judges then decide who goes through to the live shows.'
WATCH Loveable Rogues' semi-final performance below...
NEW PICTURES Britain's Got Talent 2012: The finalists>>
SEE PICTURES Carmen Electra stands in for new mum Amanda Holden at Britain's Got Talent London auditions>>
SEE PICTURES Britain's Got Talent judges meet for Manchester auditions>>
SEE PICTURES Britain's Got Talent 2011: The finalists>>
SEE PICTURES Britain's Got Talent 2011: The second auditions show>>>
SEE PICTURES Britain's Got Talent 2011: The first auditions show>>>
SEE
PICTURES Britain's Got Talent - best moments>>
SEE PICTURES Stars arrive at Simon Cowell's 50th birthday party>>
SEE PICTURES The photos of Paul Abdul and Cheryl Cole Simon Cowell didn't want you to see>>
SEE PICTURES Simon Cowell in Celebrity Smokers: VIPs who love a fag>>
Esme Riley