Wednesday 09 May 2012
BGT opera star Jonathan Antoine's mum: The show has helped him enormously since his breakdown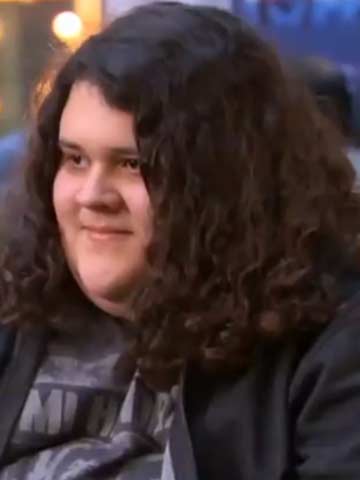 Jonathan Antoine has been compared to Pavarotti
Opera singer Jonathan Antoine has become a new, confident man since entering Britain's Got Talent.
He and partner Charlotte Jaconelli's performance of Pavarotti's Caruso put them through to the show final with ease this week - and Jonathan's mum Tracy says the overwhelming support for her son is making him enjoy life again.
'He's a different person since that first audition,' says Tracy.
'We've met some lovely people and it has helped him enormously.
'Before this, he'd hide under a big jumper and hardly go out.
'Now he's putting on a Superman T-shirt and going off to shopping centres.'
Jonathan, who weighs 20st, revealed earlier this year that he'd been picked on at school and as a result quit his A-Level studies.
'Ever since I was quite small I've had weight problems and the bullying was related to that,' said Jonathan, 17.
'People would be nasty about my weight and say nasty words.
'I sort of had a nervous breakdown back in October. And at that point I left the school I was at. Me and school just don't get on.'
NEW PICTURES Britain's Got Talent 2012: The finalists>>
WATCH VIDEO Jonathan And Charlotte wow in Britain's Got Talent semi-final...
SEE PICTURES Carmen Electra stands in for new mum Amanda Holden at Britain's Got Talent London auditions>>
SEE PICTURES Britain's Got Talent judges meet for Manchester auditions>>
SEE PICTURES Britain's Got Talent 2011: The finalists>>
SEE PICTURES Britain's Got Talent 2011: The second auditions show>>>
SEE PICTURES Britain's Got Talent 2011: The first auditions show>>>
SEE
PICTURES Britain's Got Talent - best moments>>
SEE PICTURES Stars arrive at Simon Cowell's 50th birthday party>>
SEE PICTURES The photos of Paul Abdul and Cheryl Cole Simon Cowell didn't want you to see>>
SEE PICTURES Simon Cowell in Celebrity Smokers: VIPs who love a fag>>
Esme Riley