Wednesday 09 May 2012
BGT contestant Ashleigh Butler: I know Simon Cowell loves Pudsey, but he's not for sale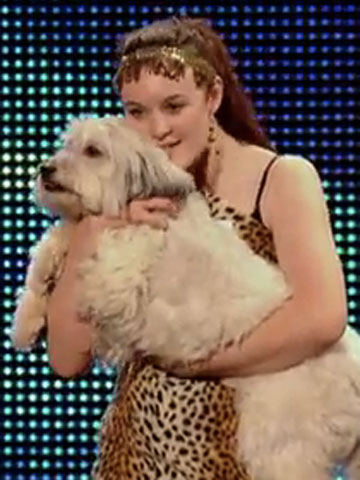 Simon Cowell is very impressed with Pudsey and his owner Ashleigh Butler
It's obvious that Simon Cowell is rather taken with Britain's Got Talent's newest star, Pudsey the dog.
Simon's a big fan of animal acts and has admitted in the past that he's looking for the next Uggie - the Jack Russell terrier in The Artist.
'I know Simon loves him,' says Ashleigh, 17.
'But he's definitely not for sale.'
Simon might be content with a Pudsey pup and has already asked the teenager if she can breed Pudsey - a mix of Border Collie, Bichon Frise
and Chinese Crested - and let him have one of the litter.
This year's BGT winner not only gets to perform at the Royal Variety show but will also be given £500,000 - straight from 52-year-old Simon's pocket.
Ashleigh, who's bookies' favourite to win with Pudsey, is keen to spend the cash setting up a business providing animals for films - but she says the unpredictability of working with a pooch with personality means there's no guarantee she'll take home the top prize.
'Pudsey has his own mind,' Ashleigh tells the Daily Mirror.
'If he doesn't want to do it he can easily just walk off stage.
'But Pudsey's loving it - we're both really enjoying the experience.
'The bigger the audience, the better he performs.
'I've just got to make sure he is always really happy.'
SEE PICTURES Carmen Electra stands in for new mum Amanda Holden at Britain's Got Talent London auditions>>
SEE PICTURES Britain's Got Talent judges meet for Manchester auditions>>
SEE PICTURES Britain's Got Talent 2011: The finalists>>
SEE PICTURES Britain's Got Talent 2011: The second auditions show>>>
SEE PICTURES Britain's Got Talent 2011: The first auditions show>>>
SEE
PICTURES Britain's Got Talent - best moments>>
SEE PICTURES Stars arrive at Simon Cowell's 50th birthday party>>
SEE PICTURES The photos of Paul Abdul and Cheryl Cole Simon Cowell didn't want you to see>>
SEE PICTURES Simon Cowell in Celebrity Smokers: VIPs who love a fag>>
Esme Riley