Sunday 13 May 2012
'Terrified' Susan Boyle returns to Britain's Got Talent after shock of obsessed fan trying to get in her hotel room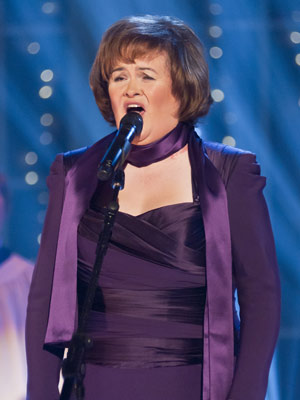 Susan Boyle came second in Britain's Got Talent in 2009
Britain's Got Talent 2009 runner-up Susan Boyle returned to the BGT stage last night and gave a confident performance.
The Scottish singer is appearing in the musical I Dream A Dream about her incredible life story, but being catapulted to stardom has been tough for the shy star.
She was recently left terrified when a male fan followed her to her Liverpool hotel room.
The admirer trailed Susan, 51, up 4 flights of stairs in the Hope Street Hotel before attempting to enter her suite.
Luckily, SuBo's security stopped him in his tracks.

'He made a dash for her door, saying he wanted her autograph, but she managed to get into her room safe and sound,' says a source.

'It was really scary for her. To follow someone up the stairs for four floors is a bit creepy. She was terrified and shaken.'

In 2010, an intruder was found in Susan's home in Blackburn, West Lothian,
'She loves performing, but sometimes the reaction of fans is really intense,' the source tells the Daily Mirror.
'Her nerves were already frayed and she shouldn't have to worry about people hounding her.'
SEE PICTURES Britain's Got Talent 2011: The finalists>>
SEE
PICTURES Britain's Got Talent - best moments>>
Melanie Macleod