Wednesday 18 April 2012
MIC's Millie Mackintosh: Professor Green is so cute - he surprised me with love heart bracelet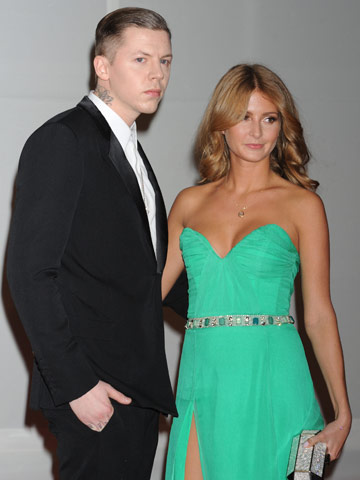 Professor Green and Millie Mackintosh attended The Brits together
Millie Mackintosh has revealed that her tough guy boyfriend Professor Green is actually a big softie.
The posh Made In Chelsea girl says the 28-year-old rapper, real name Stephen Paul Manderson, is romantic - but not in a corny way.
'When I was at London Fashion Week, it was pouring with rain and he called to say: "Come outside, I need to leave something with you",' says Millie.
'I went out and he gave me a bag but didn't let me open it in front of him.
'Inside were champagne truffles and a beautiful Annoushka love heart bracelet, it was amazing.'
Millie and her man first made their relationship public at The Brit Awards in February, with many believing the reformed bad boy isn't right for her.
But it seems his generosity has won over 22-year-old Millie.
'On Valentine's Day my phone had broken so he gave me a beautiful jewellery box with a new phone inside,' says Millie.
'How cute is that?!'
SEE VIDEO Millie Mackintosh and Caggie Dunlop's make-up masterclass>>
SEE PICTURES Made In Chelsea girls show TOWIE cast how to dress at London party>>
SEE PICTURES Millie Mackintosh attends InStyle's 10th anniversary party in London>>
EXCLUSIVE VIDEO Behind the scenes at Caggie Dunlop and Millie Mackintosh's photo shoot>>
Esme Riley