Wednesday 25 January 2012
Naughty Mario Falcone! TOWIE star dating Lucy Mecklenburgh but flirting with Cara Kilbey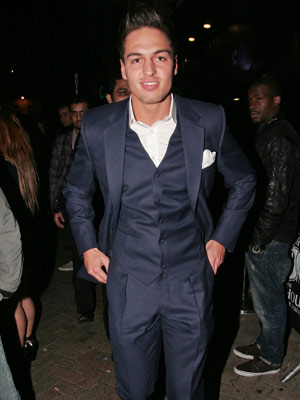 Mario Falcone has reportedly bought himself a yacht
He's made no secret of the fact that his girlfriend Lucy Mecklenburgh, 20, is, in his eyes, his future wife and potentially the mother of his kids.
So when we caught Mario Falcone, 23, getting up close and personal with fellow TOWIE star Cara Kilbey, 24, we were more than a little shocked.
In pictures that'll break Lucy's heart, naughty Mario is seen canoodling with the TOWIE newcomer at a drunken party in Essex's Nu Bar - while Lucy, who was having a quiet night in, seems to be the furthest thing from his mind.
At one point Cara touches Mario on the chest, rests her hand on his bum and they even touch tongues.
Our source, who was with them that night in the bar's VIP area, says: 'Mario arrived at Nu Bar around 10pm and made a beeline for Cara.
'They were whispering in each other's ears for about 20 minutes, then hit the dancefloor.
'She kept touching his chest and rubbing her hands over his pecs. You'd have thought it was her in a relationship with Mario instead of Lucy.'
And Cara is unrepentant about her flirty night out.
After we told her about our pictures, she said: 'I remember me and Mario poking our tongues out and touching them, but we're just friends.'
Read the full story about Mario Falcone and Cara Kilbey and see the snaps in Now magazine dated 30 January 2012 - out now!
SEE PICTURES Mark Wright gets flirty with Pat Sharp's daughter Charlotte>>
SEE PICTURES Mark Wright and the The Only Way Is Essex cast holiday in Marbella>>
SEE PICTURES The Only Way Is Essex's Mark Wright promotes the show's vajazzle kit>>
PICTURES The Only Way Is Essex stars Mark Wright and Lauren Goodger celebrate their engagement>>
SEE PICTURES The Only Way Is Essex - meet the cast>>v