Friday 20 January 2012
Denise Welch bursts into tears as Michael Madsen labels her 'emotionally disturbed' on CBB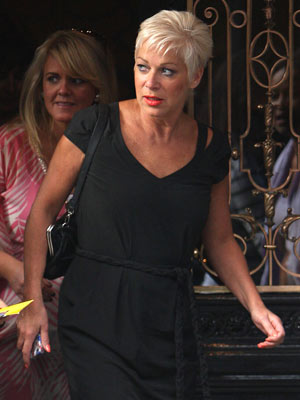 Denise Welch is having a difficult time in the house
Denise Welch was left distraught after Michael Madsen picked her character apart during live face-to-face nominations on Celebrity Big Brother.
Denise and Hollywood actor Michael have had a number of disagreements in the house - and on last night's show he was brutally candid about his true feelings towards the Loose Women panellist.
'I can't stand another minute in this house with Denise, I am not the source of this argument...she is,' Michael, 53, told his housemates.
'I feel she is emotionally disturbed and like she said it's either me or her.'
The celebrities were forced to all write their 2 nominations on blackboards and tell their fellow housemates who they've chosen and why.
Michael's words brought Denise, 53, to tears and she had to be comforted by Playboy twins Kristina and Karissa and actress Natalie Cassidy, who was fuming.
'I can't let it lie. He needs to be told that what he said about Denise was wrong,' said Natalie, 28.
'Honestly, I will not talk to him now, I will be polite but I won't talk to him.
'When he wakes up tomorrow going "good morning" he won't be getting a good morning from me.
'I won't be entertaining conversations. I don't like false people.'
All the housemates except for retired rugby star Gareth Thomas, 37, face tonight's public vote.
NEW PICTURES Celebrity Big Brother contestants 2012 - they're in the house!>>
SEE PICTURES Big Brother - where are they now?>>

SEE PICTURES Big Brother's hottest
housemates>>
SEE PICTURES Big Brother - couples quiz>>
Esme Riley