Saturday 17 December 2011
Kristina Rihanoff: I wouldn't be in the Strictly final if it wasn't for Joe Calzaghe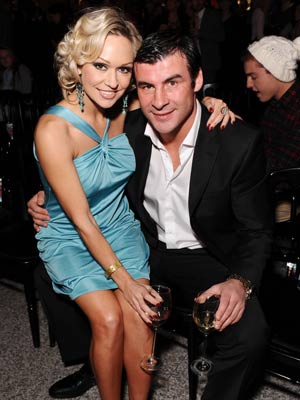 Kristina Rihanoff partnered Joe Calzaghe on the 2009 series of Strictly Come Dancing
With dance partner Jason Donovan, Kristina Rihanoff has made it to the final of Strictly Come Dancing for the first time since joining the show in 2008.
But Siberian-born Kristina, 34, says she couldn't have done it without the support of boyfriend Joe Calzaghe - who she met on the programme 2 years ago.
'Joe's unwavering support is the reason I can do such a good job with Jason,' says Kristina.
'I couldn't do it without him because I wouldn't be in such a good place in my mind.
'It really helps that he's been through it with me and knows how intense it is.
'Even now he'll say that he could never have imagined having a girlfriend who danced with other men if he hadn't seen how it works.'
But Kristina has had to make some sacrifices to last so long in the competition with 43-year-old Jason.
Despite sharing a London pad with ex-boxer Joe, 39, the couple rarely get to see each other.
'It's tough,' Kristina tells the Daily Mirror.
'We'll often sit on the sofa to schedule our diaries and agree to meet the following Monday!
'But it's not all bad, because the time we do spend together is real quality time - we go to lovely restaurants or watch a movie and it's just like dating each other all over again.'
NEW PICTURES Strictly Come Dancing Stars arrive at rehearsals>>
NEW PICTURES Strictly Come Dancing 2011 - contestants' dance partners for new series revealed>>
SEE PICTURES Strictly Come Dancing 2010 contestants revealed>>
SEE PICTURES Strictly Come Dancing star Kara Tointon Style File>>
Anna Duff