Monday 05 December 2011
X Factor results! Misunderstood Misha B goes home in semi-final after Justin Bieber performs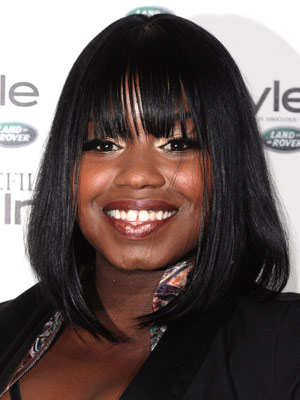 Misha B is comforted by her faith
Misha B predicted this would be her last weekend on The X Factor and she was right. Last night she was voted out by the public.
Marcus Collins, Little Mix and Amelia Lily are the finalists at Wembley Arena next week.
The contestants got together and sang Hold On (For One More Day) to open yesterday's results show, before Saturday's performances were reviewed.
All 4 acts told host Dermot O'Leary what getting through would mean to them before teen heartthrob Justin Bieber, 17, took to the stage to perform a number from his Christmas album Under The Mistletoe.
Judge Kelly Rowland then left her seat to sing a medley from Here I Am, her new album.
Then it was time for the results.
The first act to find they were safe was Little Mix, followed by Marcus Collins and Amelia Lily.
It was all over for Misha B, even though the judges believe she has 'star quality'.
To say goodbye, she chose to sing a personalised rap about her time on show, then Jessie J's Who You Are.
Misha B, 19, had a really tough childhood after she was abandoned by her mum Florence, a heroin user.
'I was a misunderstood and troubled kid because of what I went through,' she told us during rehearsals recently.
'I've been amazingly lucky to have my aunt Lily, who I call Mum because she's always been there for me, but my teachers didn't understand me.
'At the age of 16 I could've gone a very different way and achieved nothing.
'But that was when God came into my life and I was determined to make something of myself.
'But I used to get chronic stage fright. When I performed on stage and was so scared I had my back to the audience!'
Misha is devoted to helping other youngsters get their lives going in the right direction.
'I set up a workshop called Dream, Believe, Achieve a year before The X Factor to mentor other kids like me,' she revealed.
'My first protégée is called Olivia - I speak to her every week because I'm still trying to help her.'
SEE PICTURES The X Factor 2011 live shows - week 7>>
SEE PICTURES The X Factor 2011 live shows - Amelia Lily makes a triumphant return in week 6>>

SEE PICTURES The X Factor 2011 live shows - week 5>>
SEE PICTURES The X Factor 2011 live shows - week 4>>
SEE PICTURES The X Factor 2011 live shows - week 3>>
NEW PICTURES The X Factor 2011 - week 2>>
NEW PICTURES The X Factor final 16 contestants settle into their new house>>
NEW PICTURES The X Factor 2011 Final 16>>
NEW PICTURES The X Factor 2011 Final 32>>
NEW PICTURES Tulisa Constostavlos and Kelly Rowland party before X factor launch>>
NEW PICTURES The X Factor judges launch the 2011 show>>
Esme Riley