Thursday 24 November 2011
Davina McCall leads tributes to The Biggest Loser fitness trainer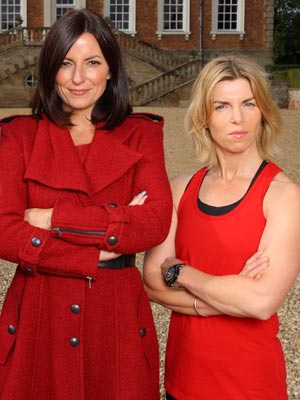 Davina McCall worked with Angie Dowds on The Biggest Loser
Davina McCall has paid tribute to the fitness trainer she worked alongside on TV show The Biggest Loser after she died at notorious suicide spot Beachy Head on Sunday.
The body of Angie Dowds, 42, was found by coastguards after witnesses reported seeing a woman jump or fall from the cliffs in Eastbourne.
'Rest in peace Angie Dowds @angechops. So so sad,' Tweets Davina, 44.
Davina had known Angie since she became presenter of The Biggest Loser earlier this year.
They met on the final of the fourth series, when Angie returned to the show after being temporarily axed for breaking the rules.
The fitness expert, who had previously battled with drink and drug problems, became engaged to partner Corrie Preece earlier this year.
'I got her the biggest diamond,' said Angie at the time, 'how romantic am I?'
PHOTO GALLERY Celebrity tattoos>>
EXCLUSIVE VIDEO Big Brother star John James Parton strips for
Now>>
SEE PICTURES Big Brother - where are they
now?>>
SEE PICTURES Big Brother's hottest
housemates>>