Thursday 17 November 2011
Michael Jackson's children Paris and Prince to star in own reality TV show?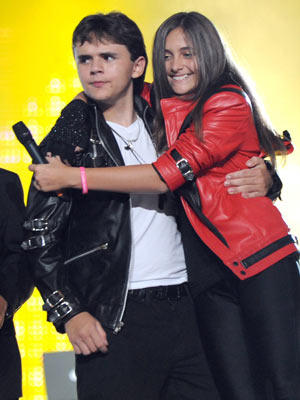 Prince and Paris Jackson attend $33,500 a year Buckley School in LA
Two of Michael Jackson's children are believed to be considering a Hollywood offer to star in their own reality TV programme.
The Jackson family hope Prince Michael, 14, and Paris, 13, will carry on the family dynasty and become huge stars - but Michael's 3rd child Blanket, 9, prefers not to be in the spotlight.
'He is shy, speaks very little and seems to be more shell-shocked than his siblings,' says a family acquaintance.
The siblings' dad Michael died in June 2009 aged 50 after his doctor Dr Conrad Murray gave him a fatal dose of the powerful anaesthetic propofol.
Though Blanket is a 'withdrawn' child, his brother and sister lead relatively normal lives - Paris plays for her school football team while Prince sings in school performances.
'They're down-to-earth kids, not full of themselves, not pretentious,' Diane Diamond, author of Be Careful Who You Love: Inside The Michael Jackson Case tells The Mail On Sunday.
'They don't wear $500 sneakers and, except for their father's trial, they don't watch TV.
'Of course, a staff of 3 maids, a full-time chef and a round-the-clock security detail looks after them.'
SEE PICTURES Michael Jackson: The Life Of An Icon London film premiere>>
SEE PICTURES Michael Jackson's This Is It premiere>>
SEE PICTURES The stars at Michael Jackson's memorial>>
SEE PICTURES Michael Jackson - life of a
legend>>
Esme Riley