Tuesday 15 November 2011
Mark Wright: I'll have fun in the jungle - but it's not over with Lauren Goodger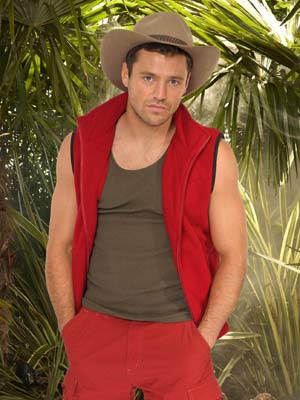 Mark Wright is done with TOWIE
He's the Essex hunk who's quickly become the new I'm A Celebrity heartthrob - but for his army of fans glued to the TV it's a bittersweet treat as Mark Wright, 24, has just taken the biggest risk of his entire career.
I spoke to Mark just before he jumped on the plane to Australia and he's revealed there's no way he'll ever go back to TOWIE.

'After this interview, Dan, I don't want to talk about TOWIE ever again. I loved every moment of it but this is the right time for me to move on,' he says sadly.

So we sit down - on the floor of his walk-in wardrobe, no less - to set the record straight once and for all about the rumours that surround him and his love life...

You must be hoping there are some good-looking girls waiting for you in Australia?

'Haha! Yes, I'm single now.'

You could end up with a new girl in the jungle, then?

'Definitely, but it'd depend on the scenario.

'If I find love in the jungle, then great.

'If it comes, it comes - I'm not ruling anything out.

Lauren seems to have unravelled lately. Has it been hard for you to see her like this?

'Yes - she puts on a very strong front, but I knew she was never over me that quick.

'She loves me and I love her.

'The reason I was so upset this time is because I knew that was it.

'But Lauren will never be out of my life or my heart for years to come.'

Read the full Dan Wootton interview with Mark Wright in Now magazine dated 21 November 2011 - out now!




I'm A Celebrity 2011 - the 10 contestants confirmed>>
NEW PICTURES I'm A Celebrity...Get Me Out Of Here! 2011: Stars tipped to appear in the jungle>>
SEE PICTURES I'm A Celebrity...Get Me Out Of Here! 2010 - meet the contestants>>
SEE PICTURES I'm A Celebrity...Get Me Out Of Here! 2009 - stars unveiled>>
SEE PICTURES Mark Wright and the The Only Way Is Essex cast holiday in Marbella>>
SEE PICTURES The Only Way Is Essex's Mark Wright promotes the show's vajazzle kit>>
PICTURES The Only Way Is Essex stars Mark Wright and Lauren Goodger celebrate their engagement>>
SEE PICTURES The Only Way Is Essex - meet the cast>>