Friday 11 November 2011
Holly Valance falls into Brendan Cole's arms for tomorrow's Strictly Come Dancing live show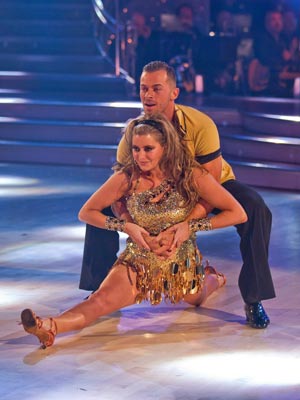 Holly Valance is hoping she'll still score highly without Artem Chigvintsev
Holly Valance is to dance with Brendan Cole on this weekend's Strictly Come Dancing live show after her partner Artem Chigvintsev suffered a back injury last week.
Artem, 29, sustained a transverse process fracture to the lumbar spine - caused by rotation or extreme sideways bending - during rehearsals for the Bonfire Night themed show and has been advised to rest up for a while longer.
'MASSIVE thanks 2 @TheBrendan_Cole 4 coming 2 our rescue! Really appreciate it!' Tweets Holly, 28.
But Artem isn't letting his painful mishap stop him from taking part in the BBC show altogether.
He's still choreographing the dance Holly and Brendan, 35, will perform tomorrow night.
'He's still bossing me round, but from a chair!' Holly jokes.
SEE PICTURES Artem Chigvintsev performs with a fractured spine on Strictly Come Dancing 2011 live shows - week 6>>
SEE PICTURES Strictly Come Dancing 2011 live shows - week 5>>
SEE PICTURES Strictly Come Dancing 2011 live shows - week 4>>
SEE PICTURES Strictly Come Dancing 2011 live shows - week 3>>
SEE PICTURES Strictly Come Dancing 2011 live shows - week 2>>
SEE PICTURES Strictly Come Dancing 2011 live shows - week 1>>
SEE PICTURES Strictly Come Dancing 2011 - contestants' dance partners for new series revealed
SEE PICTURES Strictly Come Dancing Stars arrive at rehearsals
PHOTO GALLERY Artem Chigvintsev is in Now's Top 5 Hot Men 2010>>
Esme Riley