Tuesday 08 November 2011
Josie Gibson's new man Luke Sanwo meets her brothers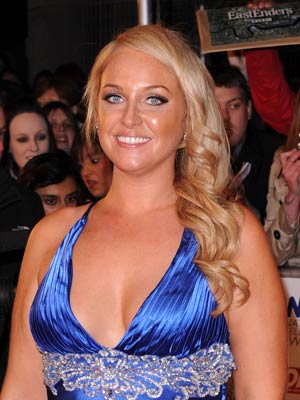 Josie Gibson is enjoying living with plumber Luke
Big Brother
winner
Josie Gibson
, 26, took boyfriend
Luke
Sanwo
down to
Bristol
to meet her three brothers and two sisters this week and he got
The Talk
.
'You know, the "don't mess our sister about" talk,' she explains.
'They're my little brothers, but they're all 6ft 4in and pretty protective.'

Luke got on very well with Josh, 19, and Charlie, 18, but didn't know how to take Harry, 24, who just took the rise out of him for dating his sister.

'I told him Harry takes the piss out of everyone,' says Josie.

'Harry's hilarious. He's so rude, then he blames everything on the fact that he's deaf, bless him.'
Read Josie Gibson's full Love & Dating Confession in Now magazine dated 14 November 2011 - out now!
EXCLUSIVE PICTURES Big Brother winner Josie Gibson gets naked for Now>>
EXCLUSIVE VIDEO Big Brother star Josie Gibson's naked shoot>>
PHOTO GALLERY Josie Gibson on John James>>
SEE PICTURES Big Brother - where are they now?>>
EXCLUSIVE VIDEO Behind the scenes at our Josie Gibson Marilyn Monroe shoot>>
NEW PICTURES John James' best quotes on Josie, life and love>>