Tuesday 08 November 2011
SHOCK! Holly Valance's Strictly partner Artem Chigvintsev has a fractured spine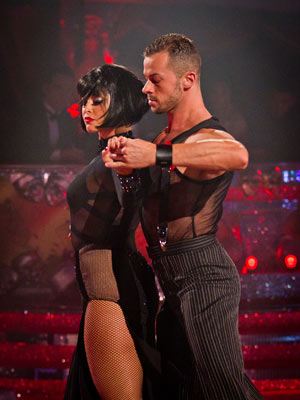 Holly Valance and Artem Chigvintsev have been favourites to win this year's Strictly Come Dancing
Artem Chigvintsev is unable to train with Strictly Come Dancing partner Holly Valance this week after a medical test revealed he has a fractured spine.
Fellow professional dancer Brendan Cole, 35, who was booted out with 63-year-old singer Lulu at the weekend, has taken over from Artem.
'So @TheBrendan_Cole is stepping in 4 Art at training this week. Just taking it a day at a time. Art is at training also, choreographing us,' Tweets Holly, 28.
'It's the most sensible thing to do, & gives his back a much needed break. Brendan is great & we'll just get on with it til Art can return.'
Artem, 29, sustained the injury last Friday during rehearsals but continued to dance a successful energetic jive on Saturday night's live show.
Though it was first thought to be a strained muscle, he's now been diagnosed with a transverse process fracture to the lumbar spine - caused by rotation or extreme sideways bending.
'So between Art's fracture & my constant spasm we're a motley crew! But THE SHOW MUST GO ON!!! He's still bossing me round, but from a chair!' Holly Tweets.
'And he LOVES all your sweet messages, so thank you for sending them our/his way! XX.'
SEE PICTURES Artem Chigvintsev performs with a fractured spine on Strictly Come Dancing 2011 live shows - week 6>>
SEE PICTURES Strictly Come Dancing 2011 live shows - week 5>>
SEE PICTURES Strictly Come Dancing 2011 live shows - week 4>>
SEE PICTURES Strictly Come Dancing 2011 live shows - week 3>>
SEE PICTURES Strictly Come Dancing 2011 live shows - week 2>>
SEE PICTURES Strictly Come Dancing 2011 live shows - week 1>>
SEE PICTURES Strictly Come Dancing 2011 - contestants' dance partners for new series revealed
SEE PICTURES Strictly Come Dancing Stars arrive at rehearsals
PHOTO GALLERY Artem Chigvintsev is in Now's Top 5 Hot Men 2010>>
Esme Riley