Tuesday 08 November 2011
Strictly's Harry Judd: My girlfriend freaked out about me and Aliona Vilani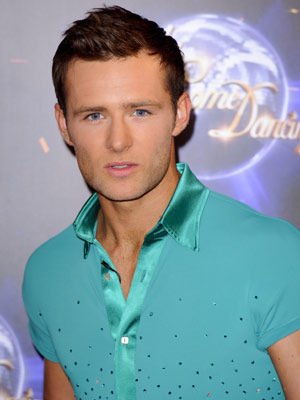 Harry Judd found fame in McFly
For years,
Harry Judd
was the boy behind the drum kit in
McFly
, happy to take a back seat to bandmates
Dougie Poynter
,
Danny Jones
and
Tom Fletcher
.
What a difference a couple of years makes.

After a much talked-about naked shoot for a gay mag earlier this year, the 25-year-old Essex boy has become one of Britain's hottest sex symbols - a status cemented by his sizzling Strictly Come Dancing performances.

But how did his girlfriend Izzy Johnston, 27 (of Britain's Got Talent string quartet Escala) cope when she found out he was partnered with Strictly's self-proclaimed 'pussycat' Aliona Vilani, 27?

I caught up with Harry at a south London warehouse for Now's Footloose-themed photo shoot to find out...

A lot of people didn't realise you had a serious girlfriend before the show so they assumed you'd get it on with Aliona, didn't they?

Yeah, yeah.

How did Izzy react?

She did view Aliona as one of the sexy ones and hoped I wouldn't get paired with her.

But I introduced them and they got on, so she was weirdly fine about it.

So it's all good?

Well, Izzy comes to rehearsals once a week to see how I'm getting on.

When she came to watch us practise the tango, Aliona warned her it was raunchy.

I was almost biting her neck and really getting into it to show off to Izzy.

I wanted her to think I'm good.

I thought it was all great...

And I presume it wasn't?

Correct! On the ride home Izzy was really quiet.

At that moment it'd hit her that this was her man doing that with another girl.

She was freaked out a bit.

She said: 'Just don't talk to me now - speak to me in the morning.'
Read Dan Wootton's full interview with Harry Judd in Now magazine dated 14 November 2011 - out now!
NEW PICTURES Strictly Come Dancing Stars arrive at rehearsals>>
NEW PICTURES Strictly Come Dancing 2011 - contestants' dance partners for new series revealed>>
SEE PICTURES Strictly Come Dancing 2010 contestants revealed>>
SEE PICTURES Strictly Come Dancing star Kara Tointon Style File>>