Monday 07 November 2011
RESULTS SHOW! Audley Harrison saved on Strictly Come Dancing as Lulu exits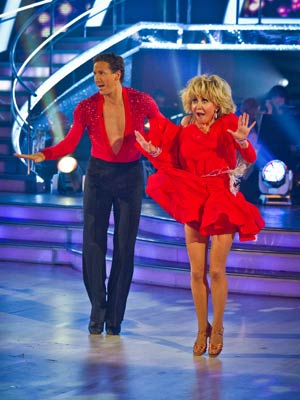 Lulu and Brendan Cole have exited from Strictly Come Dancing
Audley Harrison and partner Natalie Lowe ended up in the bottom two (again!) on Strictly Come Dancing last night, with Lulu and Brendan Cole.
Tess Daly announced Anita Dobson and Robin Windsor were safe first, followed by Holly Valance and Artem.
Then Russell Grant and Flavia Cacace found out they'd dance again, along with Harry Judd and Aliona Vilani.
Audley Harrison and partner Natalie Lowe found out they were in the bottom two before Westlife - and Bruce Forstyth, 83 - performed.
Then Lulu and Brendan discovered they were the other vulnerable duo.
'I'm a survivor,' Audley, 40, told Claudia Winkleman, 39, and Lulu, 63, admitted she was surprised to have got this far.
It seemed it was Audley's time to go but he was right, he's a survivor and it was Lulu who got the boot.
She and Brendan danced their last Strictly dance.
NEW PICTURES Strictly Come Dancing Stars arrive at rehearsals>>
NEW PICTURES Strictly Come Dancing 2011 - contestants' dance partners for new series revealed>>
SEE PICTURES Strictly Come Dancing 2010 contestants revealed>>
SEE PICTURES Strictly Come Dancing star Kara Tointon Style File>>