Friday 02 September 2011
Danielle Brown: It's like Kerry Katona's in prison with Amy Childs!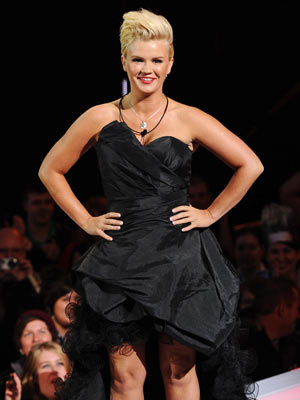 Kerry Katona was terrified about entering Celebrity Big Brother
From the moment she walked on to the Celeb Big Brother runway on 18 August, it was clear the public were back on Kerry Katona's side.
But new BFF Danielle Brown, 31, knows how terrifed Kerry was about going into the house.
'Although she's done her own reality show, CBB is so different. Kerry can't speak to anyone and she's with people she probably wouldn't choose to be around,' Danielle tells us in an exclusive interview.
'She and Amy Childs are completely different. It's like she's in a prison! It's also surreal for her because she doesn't really have any celebrity friends - she still gets starstruck.
'She's gone in for the challenge, but money's also a factor because she's a bankrupt single mum with four kids.'
However, Danielle fears Kerry hasn't been coping. 'I knew she was crumbling inside at being up for eviction last week. It didn't come across on camera but I knew,' she says.
'She was definitely feeling guilty about nominating people. Even when she did I'm A Celebrity - Get Me Out Of Here!, she's told me she had to see a doctor as she had proper anxiety attacks. But Kerry can stick up for herself.'
Read the full story about Kerry Katona in Now magazine dated 5 September 2011 - out now!
SEE PICTURES Kerry Katona: From pop princess to Dazed Of Warrington>>
SEE PICTURES Kerry Katona and Nicola McLean enjoy a girls' night out in London>>
SEE PICTURES Kerry Katona at Sky One's Children's Champions Awards>>
SEE PICTURES Dancing On Ice 2011 - Week 6 sees Kerry Katona saved>>