Tuesday 26 July 2011
Louis Walsh: I saw a different side to Ashley and Cheryl Cole's relationship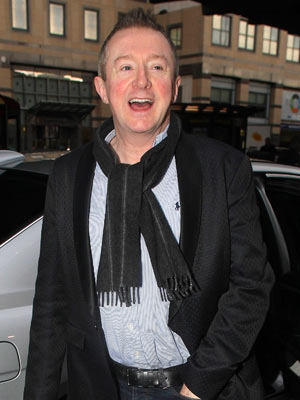 Louis Walsh is a judge on The X Factor
Louis Walsh believes Cheryl Cole and ex-husband Ashley will get back together for good.
The X Factor judge, who was on the panel with Cheryl for 3 series, has always said the couple would reconcile.
'I saw a side to them that most people didn't - when they were together and the cameras were turned off,' says Louis, 58.
'You could tell how much they loved each other. I honestly think Ashley will change this time for her and she will tame him. They will end up together.'
Cheryl was heartbroken when she and her love cheat ex divorced in September.
But she's never stopped loving Ashley and he was the Girls Aloud star's special guest at her 28th birthday party.
Since then, air stewardess Kerry Meades, 29, has alleged she slept with Ashley in LA in June, former
beauty queen Collette McBarron claims she spent a romantic night
with the soccer star and lingerie model Jessyca Rayanne that he asked
for a nude photo.
But Cheryl believes that Ashley, 30, still a single man, is her soulmate.
'She just wants to be happy and be in love and enjoy herself,' says Louis. 'She's more grounded than people think.'
SEE PICTURES The X Factor judges arrive at Manchester auditions>>
SEE PICTURES Cheryl and Ashley Cole: The story so far>>
SEE PICTURES The photos of Paul Abdul and Cheryl Cole Simon Cowell didn't want you to see>>
NEW PICTURES Cheryl Cole impresses US in sexy mini dress>>
MORE PICTURES Cheryl Cole's sexy black backless dress shows off new tattoo at The Brit Awards>>
MORE PHOTOS See all the photos of Cheryl Cole looking red hot at the Elle Style Awards 2011>>
SEE PICTURES Stars arrive at Simon Cowell's 50th birthday party>>
NEW PICTURES Cheryl Cole wears nude dress to meet Prince Charles>>
NEW PICTURES Cheryl Cole shows off new hair and image in LA for X Factor US>>
SEE PICTURES Cheryl Cole turns into a ballerina for new music video here>>
SEE PICTURES The life of Cheryl Cole>>
FASHION GALLERY SPECIAL Cheryl Cole's fashion history - the highs and the lows>>
CELEBRITY HAIR Cheryl Cole: From corn rows to curls>>
Esme Riley