Thursday 21 July 2011
Steps to reform for new reality TV show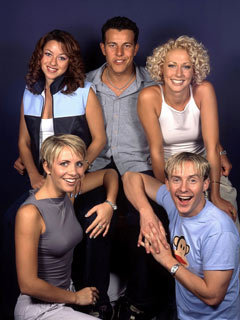 Steps were a huge success despite their tacky tunes
Cheesy 90s pop act Steps are set to reunite for a new reality TV show.
The group, famed for tacky hits such as Tragedy and 5,6,7,8, will make their surprise return for a four-part Sky Living documentary and a new greatest hits album.
The show will reveal what the band's five members - Claire Richards, Ian 'H' Watkins, Lisa Scott-Lee, Lee Latchford-Evans and Faye Tozer - have been doing since their split in 2001.
Launched by Pop Idol judge Pete Waterman, Steps shifted 15 million records worldwide and had 14 consecutive Top 5 singles.
'Ok guys, I'm happy to say it is no
longer a rumour!!! We are filming a doc for Sky Living. No other plans
right now, each day as it comes,' Claire, 33, tells her Twitter followers.
Show creators ITV Studios promise that the show will be 'explosive' viewing and Sky's Mark Sammon insists viewers will see a different side of the band from their squeaky clean image.
'We'll document the in-fighting, jealousy and power
struggles,' he explains, 'it's not the sugar-coated Steps we all remember.
'We
can expect tears and dramatic confrontation as they attempt to put the
past behind them and re-launch Steps 10 years on from their split.'
In 2008, Lisa's brother Andy Scott-Lee predicted Steps would reform.
'I honestly think it will happen,' Andy told Now Online. 'I'm not sure where or when.
'I actually had a dream a few months ago about Steps on stage and in the morning I texted Lisa saying: "Oh my God, I had a really vivid dream of you getting back together."'