Friday 08 July 2011
EastEnders star Pam St Clement: It's time to hang up Pat Butcher's earrings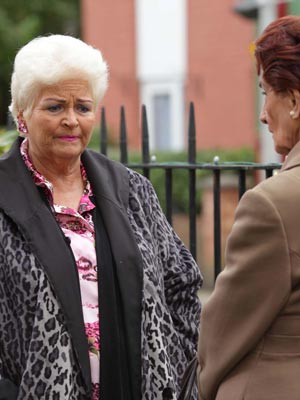 Pam St Clement will miss Albert Square
Pam St Clement has announced that she's leaving EastEnders after 25 years.
The actress plays bolshy grandmother Pat Evans who's famed for her colourful outfits and tacky jewellery.
'I have enjoyed 25-and-a-half wonderful years but I feel it's time to hang up her earrings,' says Pam, 69.
'Leaving the EastEnders "family" will be akin to a bereavement.
'But I'm looking forward to other work and life opportunities that I will have the time to pursue.'
Pam is the soap's 2nd longest-serving star after Adam Woodyatt, who plays Ian Beale.
Character Pat Evans has been married 4 times and is a former prostitute who's been involved in her fair share of catfights.
'Over the years, we've seen her develop from a shrew into a matriarch,' Executive Producer Bryan Kirkwood tells Metro.
'Pat's colour, warmth and steel have given EastEnders some of its most memorable stories.'
Esme Riley