Friday 13 May 2011
OMG! Chelsea Charms shows off her 164XXX boobs to Phillip Schofield on This Morning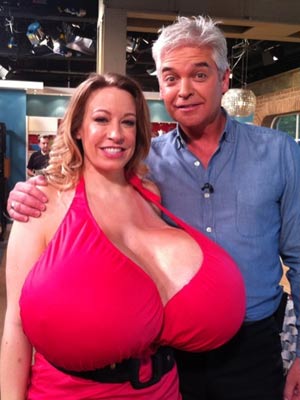 Chelsea Charms cuddles up to Phillip Schofield
Chelsea Charms flew in from the US to show off her 164XXX breasts on This Morning yesterday - and revealed that she likes to refer to them as 'Itsy and Bitsy'.'
The 5ft 3in exotic dancer from Minneapolis underwent a now-banned operation called Polypropylene String Breast Implants - which introduces a cord that pumps fluid into the breasts.
'Naturally I was a D Cup,' says Chelsea, 35, whose chest will continue to grow at a rate of an inch a month.
'I developed early and I had my D Cups all through high school and during those years I covered up and was self conscious about them being big.
'But out of high school I learnt to appreciate curves.'
Chelsea admits she enjoys the attention that comes with her massive breasts.
'It was a way to get myself out there and get me noticed!' she told Phillip Schofield and Ruth Langsford.
'Obviously I can't have them forever and obviously I will reduce eventually...but I don't think I could go back down to a D cup!'
Eurotrash star Lolo Ferrari held the Guinness World Record for the Heaviest Breasts in 1999. Each of her boobs weighed 6lb 2oz. She died in 2000 of an overdose.
But Chelsea says The Guinness Book Of Records is yet to recognise her chest: 'They haven't called!' she says.
NEW PICTURES The Celebrity Boob Job>>
Esme Riley