Monday 09 May 2011
BABY JOY! BBC News presenter Kate Silverton pregnant with 1st child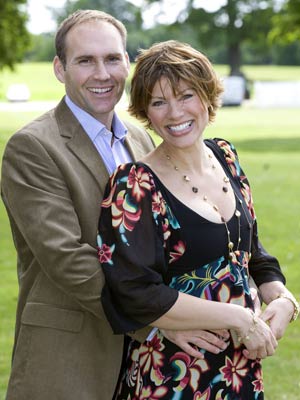 Mike Heron and Kate Silverton met on a BBC training course
Kate Silverton is pregnant with her first baby.
The BBC News presenter and her husband Mike Heron describe the news as a 'minor miracle' after they were told last year they couldn't conceive.
'Now a little announcement I have to make - for those of you who have asked about the puppy there is sad news... We cannot get it....:-(,' Kate, 40, wrote on Twitter yesterday.
'Because we had some very unexpected - but lovely news just recently.....

'I am pregnant ;-).
'Ooh that felt odd to announce! We gave up hope of having a biological family last year so this feels something of a minor miracle...'
Kate and security expert Mike got engaged in 2009 and married in central London last December.
'Hello all - we've had such a super day today and thank you again for your lovely messages,' Kate wrote last night on the social networking site.
'Feel wonderfully overwhelmed and just a teeny bit scared having it all out in the open - but know that happens to very early parent!
'I'll keep you posted and I love hearing your inspirational stories too - thnk you. Am off to bed shortly as up for the One o'clock news tomorrow...'
PHOTO GALLERY Pregnant celebrities>>
SEE PICTURES Celebrity births 2010>>
SEE PICTURES Celebrity baby names A to Z>>
Esme Riley