Thursday 05 May 2011
EastEnders star Jessie Wallace engaged to fiancé No 3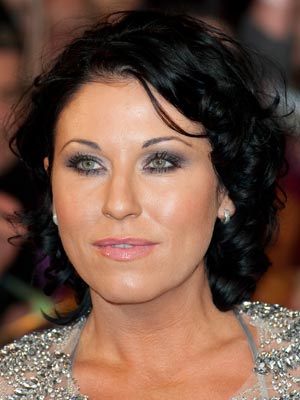 Jessie Wallace was spotted wearing an engagement ring but won't share the name of the mystery man
We'd almost given up hope that
Jessie Wallace
would find true love.
So when we saw a pic of the EastEnders actress at a Hertfordshire garage with co-star Shane Richie flashing a ring on her engagement finger, we almost fell off our seats.
So who is her mystery man?
We can reveal she's been secretly dating him since last summer and he proposed last month.
But pals say Jessie's keeping his name a secret in case she jinxes things.
'Jessie's personal life was always very public, which made it difficult when her relationships didn't work out,' says our insider.
'She's determined to not let anything spoil what she has this time.
'She has no intention of bringing her new man into the limelight.'
In a recent interview, Jessie, who turns 40 in September, hinted at wanting another baby.
'I don't feel 40 and I don't act it, but I might've left it a bit too late to have more children,' she said.
Jessie's already mum to Tallulah, 6, with ex-fiancé Dave Morgan and was also engaged to youth worker Tommy O'Neill.
Read the full story about Jessie Wallace in Now magazine dated 9 May 2011 - out now!
SEE PICTURES Children In Need 2010 special: Coronation Street meets EastEnders
SEE PICTURES EastEnders: Michael Moon decides to leave the Square after baby swap drama>>
SEE PICTURES EastEnders: Kat and Alfie Moon in tearful reunion with baby Tommy>>
SEE PICTURES EastEnders: Alfie Moon gives wife Kat Moon an IVF ultimatum>>
SEE PICTURES EastEnders: Michael Moon returns to Albert Square>>