Wednesday 16 February 2011
Take That use 'inappropriate' X Factor riot routine at The Brit Awards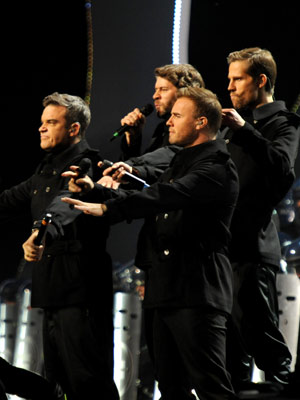 Take That opened The Brit Awards 2011
Take That
marched on stage at
The Brit Awards
last night for a dramatic performance of their new single
Kidz
.
Featuring dancers in police riot gear with shields, it's a routine we were supposed to see last year on The X Factor.
But Simon Cowell deemed it 'inappropriate' as the UK had just seen violent clashes between students and police over tuition fees.
Last night the number went down a storm - and it only got better for Take That's Robbie Williams, 37, Gary Barlow, 40, Mark Owen, 39, Jason Orange, 40, and Howard Donald, 42, who picked up the award for Best British Group.
And the 'boys' celebrated after the show at the The Savoy Hotel, reportedly putting a staggering £400,000 behind the bar for the party.
'Take That were adamant they wanted to celebrate in style,' a source tells the Daily Mirror.
'This was the biggest night in their entire career - the first time in four attempts that they have won in this category.
'It was Mark's idea originally and the boys' way of saying thank you to the label and all their mates.'
NEW PICTURES The Brit Awards 2011>>
NEW PICTURES Brit Awards 2011: Stars party after the Brits>>
NEW PICTURES Cheryl Cole's sexy black backless dress shows off new tattoo at The Brit Awards>>
Esme Riley