Thursday 27 January 2011
PICTURE Cheryl Cole shows off new tattoo in sexy bondage dress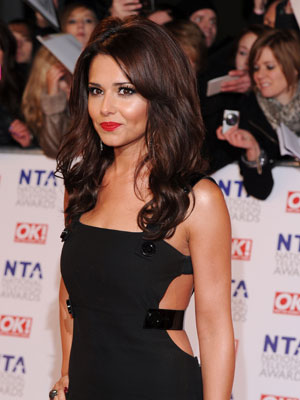 Cheryl Cole wears a £2,200 Versace dress at London's O2 Arena
Cheryl Cole
braved the cold on the red carpet last night in a cut-out bondage-style dress to show off her new
tattoo.
Her figure-hugging black number revealed a large abstract design that merges into the butterfly already inked on her lower back.
X Factor judge Cheryl, 27, displayed her new artwork - which she first showed off in
November - at the National TV Awards held at London's O2 Arena.
'This one is extremely personal to her, that's why she got it done,'
Cheryl's pal said last year.
Geordie lass Cheryl also has a tattoo on her hand, a barbed
wired pattern around her right thigh, a secret design on her left buttock and Mrs C on her neck.
It's thought the new tattoo is the upper part of a design the Girls Aloud
star had started on her left thigh in LA this summer.
NEW PHOTO GALLERY Cheryl Cole at National Television Awards 2011>>
PHOTO GALLERY Celebrities and their tattoos>>

SEE
PICTURES The life of Cheryl
Cole>>

SEE PICTURES Cheryl and Ashley Cole: The
story so far>>
FASHION GALLERY SPECIAL Cheryl Cole's fashion
history - the highs and the lows>>
CELEBRITY HAIR Cheryl Cole: From corn rows to
curls>>
PICTURES Cheryl Cole heads home from
California>>
PHOTOS: Cheryl Cole arrives back to UK from
LA>>
SEE PICTURES Cheryl Cole rocks Bangor>>
SEE
PICTURES Cheryl Cole performs on the Danish X Factor>>

SEE PICTURES The X Factor 2010 - final 12 get
makeovers>>
SEE PICTURES The X Factor 2010 - final 12>>
SEE
PICTURES The X Factor 2010 - auditions>>
SEE PICTURES The X Factor: Where are they now?>>

Esme
Riley