Wednesday 24 November 2010
Hey, Cher Lloyd: Kate Moss wants you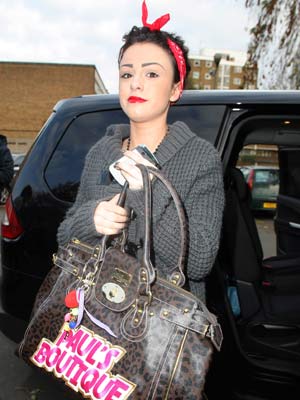 Kate Moss thinks Cher Lloyd has something special
Kate Moss is an inspiration to some of the biggest names in fashion, including Roberto Cavalli and Calvin Klein, but it seems she's found a muse all of her very own.
The 36-year-old supermodel's fascinated with Cher Lloyd and is desperate to find a way to work with the teeny star.
X Factor fan Kate's told friends she loves Cher's individuality, sound and attitude and thinks she has what it takes to make it in the music or fashion industry, whether she wins the show or not.
'Cher reminds Kate of herself when she was younger,' reveals our source.
'Cher's got a swagger like she knows everything but the fact is she's a kid and has a lot to learn. Kate's impressed by her vibe and says she has a great sense of style and personality.'
While Croydon-born Kate - who's good mates with Simon Cowell - doesn't have a specific idea in mind, she's looking out for a project she can work on with Cher, 17, in the future.
'She's waiting until the show finishes but she's spoken to a few fashion experts about it and they've all agreed Cher could be one to watch in the industry in the next few years,' says our mole.
'Kate thinks that if Cher plays her cards right she could have her choice of campaigns to front as well as a singing career.'
Read the full story about Cher Lloyd and Kate Moss in Now magazine dated 29 November 2010 - out now!
SEE PICTURES The X Factor 2010 - the finalists' stylish makeovers>>
SEE PICTURES The X Factor 2010 - the live shows>>
SEE PICTURES The X Factor 2010 - finalists prepare for live shows>>
SEE PICTURES The X Factor 2010 - final 12 get makeovers>>
SEE PICTURES The X Factor 2010 - final 12>>
SEE PICTURES The X Factor 2010 - auditions>>
SEE PICTURES The X Factor 2009 - best moments>>
SEE PICTURES The X Factor: Where are they now?>>