Sunday 19 December 2010
Diva Fever's Craig: One Direction's Zayn Malik wears the dog-tag I gave him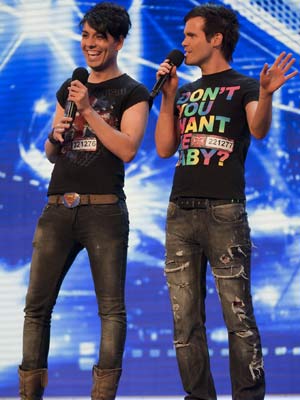 Diva Fever loved being on The X Factor
Diva Fever's Craig Saggers couldn't help noticing that the One Direction boys are all incredibly cute.
He and Joe Al-Smadi had a ball camping it up on The X Factor and Craig, 21, likes to think that 17-year-old Zain Malik - who has changed the spelling of his name to Zayn for his professional career - took a shine to him, too.
'I think Zayn from One Direction had a
soft spot for me,' Craig tells Now.
'When the band got through to the live show, I gave him
a glittery dog-tag necklace. If you watch the footage, you'll see he's
actually wearing it.'
Craig is sure that One Direction are thoroughly enjoying the 'attentions' of female fans.
'Well, they're all young lads and they're entitled to enjoy
it,' he grins.
'Put it this way, some of them have got girlfriends but I doubt if
they'll still be around by Christmas...'
SEE PICTURES The X Factor 2010 - the finalists' stylish
makeovers>>
SEE PICTURES The X Factor 2010 - the live shows>>

SEE PICTURES The X Factor 2010 - finalists prepare for
live shows>>
SEE PICTURES The X Factor 2010 - final 12 get
makeovers>>
SEE PICTURES The X Factor 2010 - final 12>>
SEE
PICTURES The X Factor 2010 - auditions>>
SEE PICTURES The X Factor 2009 - best moments>>