Saturday 04 December 2010
Dannii Minogue: One Direction remind me of young and raunchy Take That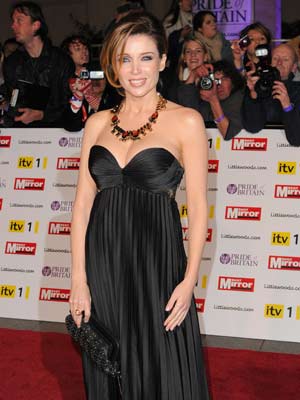 Dannii Minogue enjoys One Direction's spark
When Dannii Minogue watches The X Factor boyband One Direction on stage, they remind her of Take That in the 1990s.
'The fans are going mad for them and they deserve it,' says Dannii, 39.
'All I think about is when I first saw Take That at the BBC, I remember it so vividly - with their codpieces, their tops off...'

The X Factor judge reckons One Direction have the same energy as Gary Barlow and the boys.
'They're really enjoying what they're doing - I love it,' Dannii tells X Magazine. 'And they do sing really well for a boyband.'
Take That, now a fivesome again with Robbie Williams, aren't ready to make way for any wannabes yet - their new album Progress is the fastest selling record of the century.
SEE PICTURES The X Factor 2010 - evictees appear on Daybreak>>
SEE PICTURES The X Factor 2010 - finalists prepare for next show>>
SEE PICTURES The X Factor 2010 - the finalists' stylish makeovers>>
SEE PICTURES The X Factor 2010 - the live shows>>
SEE PICTURES The X Factor 2010 - finalists prepare for live shows>>
SEE PICTURES The X Factor 2010 - final 12 get makeovers>>
SEE PICTURES The X Factor 2010 - final 12>>
SEE PICTURES The X Factor 2010 - auditions>>
SEE PICTURES The X Factor 2009 - best moments>>
SEE PICTURES The X Factor: Where are they now?>>
Esme Riley