Saturday 13 November 2010
X Factor finalist Aiden Grimshaw's mum: He needs an easy-going girlfriend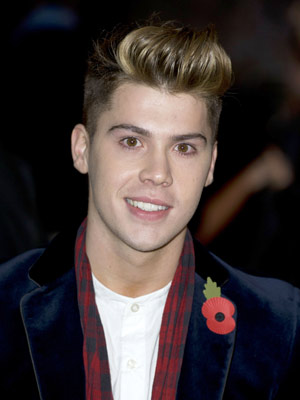 Aiden Grimshaw is single
With millions of girls swooning over Aiden Grimshaw's looks and former X Factor semi-finalist Diana Vickers tipping him to win, the teenager's mother Joanna says he's single and ready for romance.
Aiden split with Lara, his girlfriend of three years, before he went into the house and his mum has definite ideas on who she'd like to see him with next.
'Someone who's quite creative and easy-going,' Joanna tells Now.
'But it would be very uncool for me to start pointing out women for him. He'd go in the opposite direction.'

Aiden, 18, was a bit of a chubby youngster but he's now looking fit.
'It was just puppy fat. Since he lost the weight he's been pretty health conscious,' says his mum.
'We have a gym in the garage so he likes to work out. He loves chicken and steak.'
To read the full story on Aiden Grimshaw see Now magazine, dated 15 November 2010 - out now!
PHOTO GALLERY The X Factor finalists - then and now>>
SEE PICTURES The X Factor 2010 - the finalists' stylish
makeovers>>
SEE PICTURES The X Factor 2010 - the live shows>>
SEE PICTURES The X Factor 2010 - finalists prepare for
live shows>>
SEE PICTURES The X Factor 2010 - final 12 get
makeovers>>
SEE PICTURES The X Factor 2010 - final 12>>
SEE
PICTURES The X Factor 2010 - auditions>>
SEE PICTURES The X Factor 2009 - best moments>>