Wednesday 10 November 2010
X Factor reject Chloe Mafia: Everything's gone wrong since I've been on TV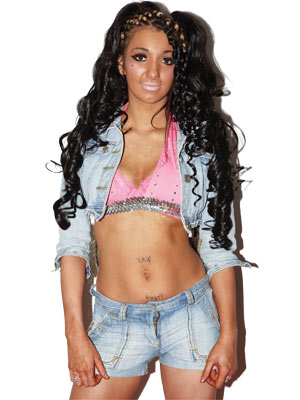 Chloe Mafia made it to boot camp on The X Factor 2010
X Factor reject Chloe Mafia claims the show has ruined her life.
The singer was accused of being a £250-an-hour escort after appearing on the ITV show.
Chloe, 19, has always denied the allegations.
'Since I've been on telly everything's gone wrong. My life's shit!' she tells the Daily Mirror.
'I've got nowhere to live, I'm homeless. I'm living in a hotel at the moment. I've lost everything. I'm trying to find a job.

'If I knew this was going to happen I wouldn't have bothered going on the show.'
Chloe made it as far as the boot camp stage on The X Factor 2010.
SEE PICTURES The X Factor 2010 - the finalists' stylish makeovers>>
SEE PICTURES The X Factor 2010 - the live shows>>
SEE PICTURES The X Factor 2010 - finalists prepare for live shows>>
SEE PICTURES The X Factor 2010 - final 12 get makeovers>>
SEE PICTURES The X Factor 2010 - final 12>>
SEE PICTURES The X Factor 2010 - auditions>>
SEE PICTURES The X Factor 2009 - best moments>>